Loose Surface Autocross 20th of September 2015 Regs+Entry Form
Next event on the calendar for Midland Motor Club is the Club Autocross at the purpose built 1.2 KM Scramoge track on Sunday September 20th and is a counting round of the Johnston Toy Town Midland Motor Club Championship. This event will give the competitors mixture of fast flowing and smooth running with each competitor getting 3 timed runs consisting of 3 laps with main field entry €90 and juniors at €50. Work has been completed at the track since the last event which will provide the competitor with an enjoyable day of competition.
        Entries (inc. entry fee) to be sent by the 16th of September 2015 to:
Amy Faughnan, Killnashee, Drumlish, Co.Longford 087 7550874 or Amyfaughnan1@gmail.com
For queries contact Patrick Brides 087 9666352, After 6pm or email Patrick.brides@gmail.com
                                             
************************************************************************************
Grass Surface Autocross Provisional Regs+Entry Form 2015
Round 6 of the Pat Kerley Windows & Doors National Grass Surface Autocross Championship.
Clerk of the Course is Sean Cahill and the event kicks off at 9.15am with mechanical scrutiny and check-in.
Practice will begin at 11am with the first official timed run starting at 11.30am.
Regulations and entry form are now available to download and print.
Entries to:
Josephine Lane-Flynn,
Raven Rock,
Stonepark,
Co.Longford.
     or
Jodylaneflynn@gmail.com

******************************************
Next Club Event
MIDLAND MC AUTOCROSS (GS)
Saturday 8th & Sunday 9th August 2015
REGS & ENTRY HERE SOON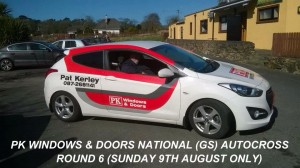 ******************************************


Loose Surface Autocross 28th June 2015
Venue
Ballyfeeney Rock Scramogue
Co. Roscommon
Round 3 of the 5 Star Catering National Autocross Championship(LS)
Round 5 Johnston Toy Town Midland Motor Club Championship
 
Midland Autocross Action – Video by Sharon Lyons
07-07-2015